Not your average liquor store… we purposefully built our latest liquor store to fit the neighborhood with respect for the rural surrounding community.  As a fan of 'old gray barns,' our goal was to combine the old west with an upscale aesthetic and diversity of product that is required in today's sophisticated market.  Our store is an experience from the moment you enter… and everyone is made to feel welcome; our staff loves our customers and it shows.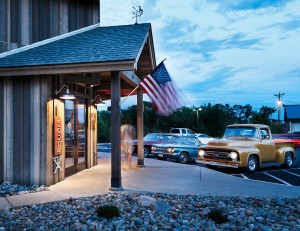 Accompanying our appreciation for the history of this rural neighborhood, is our convenience store next door…lovingly named "Elmore's Corner Store" in reverence for the original store built by Frank Elmore and his family – whom still live on their property adjacent to the current store.  Franklin and his 4th generation family have been great supporters of what we've created (or recreated) here on the corner ("Elmore's Corner" on the map) and intersection to Durango or Bayfield.
Flying in?  We're at the first stop light before heading down the hill to downtown Durango (where finding a parking spot and paying city tax can be avoided by stopping in to see us first!).  Let us take care of your libation needs so you can get on with the vacation…
We offer everyday competitive and discount pricing along with great discounting on large orders.  We also offer military and senior discount recognition and special selections and pricing for our UESRewards members.
Keep an eye out for our regularly scheduled 'Events and Tastings' or as the neighborhood puts it…"when's the next BARN PARTY?"  …which has become a customer favorite for the live music and prize giveaways.
SELECTION – we've got it or can get it for you
PRICES – better than "competitive" !
CUSTOMER SERVICE – we'll take care of ya, count on it.
ATMOSPHERE – beyond compare….you tell us!
Les and Penny Layman
Proprietors